John Burnette
A Go-to-Guy and Go-Getter

John Burnette has been a go-getter since high school when he enrolled in a community college Running Start program. A first quarter physics class of 36 students dwindled to just 12 the next quarter, and by third quarter he was one of just three students "left standing." At age 16 he started his own business and found he could make far more money than if he took a "normal" job like his classmates. As a UW EE undergraduate with an internship at a local company, he busted the "lowly intern" image by always asking for more work when finishing a project early, and even taking on a professional-level assignment.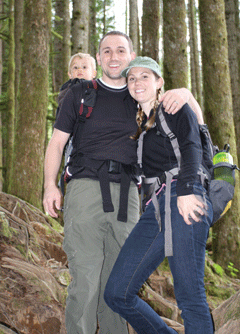 Fast-forward eight years, and Burnette (BS '03, MS' 05) has finished his coursework and qualifying exams for his EE doctoral degree and is taking a leave of absence to serve as director of engineering for a company for which he was a founding team member in 2005 and is now "really taking off."
The work stories Burnette tells reveal he is not just a go-getter, but also an adept bridger of the left-brain, right-brain divide. He has the finely honed analytical and problem-solving skills of a first-rate engineer, along with a rock-solid work ethic and values that prize responsibility and fulfilling commitments on time. He also has an easy sense of humor accompanying great people skills, plus good intuition, risk-taking inclinations, the ability to fly fearlessly by the seat of his pants, and a propensity for attracting out-of-the-blue opportunities that open unexpected doors. "My dad taught me that I didn't have to do the same thing as everyone else. I quickly learned that if you want things that most people don't have, you have to be willing to do what most people aren't. That includes putting in extra effort, taking some risks, and bouncing back when it doesn't work out."
One opportunity came during his six-month undergraduate internship at Elektrobit, a company that is a design house for cell phone providers. The president, Dave Gibbons, burst out of his office one day asking for Burnette. "We had never met, but he heard I spoke Spanish and asked me to talk on the phone with a customer calling from Spain, where I had lived for a while," Burnette said. "Dave asked me to organize a product demonstration for the customer and sent me to Spain with another engineer. He didn't care that I was just an intern." Though he had no idea at the time, that brief encounter planted important seeds for his future.
Elektrobit offered him a full-time position as he was about to graduate, but was forced to rescind the offer when the economy nosedived, so Burnette decided to return to UW for his master's degree, starting in winter 2004.
That fall, a call from Elektrobit put him in Dave Gibbon's office for just the second time. A huge electronics company in Monterrey, Mexico, had hired Elektrobit to solve a problem with product testing software that was failing 90% of the devices as they came off the manufacturing line. Gibbons asked him if he had ever programmed in LabView. Burnette said no, but was sure he could figure it out.
"Gibbons got on the phone with the customer and said 'I have an engineer here who is a LabView expert. He speaks Spanish and you will love him,' Burnette recalled with a laugh. "Four hours later I was on a plane to Monterrey doing LabView tutorials on my laptop. You know, it wasn't long before I was an expert." Working about 75 hours a week on contract for six weeks, he helped resolve all the problems ahead of schedule.
Then it was back to the UW to begin his master's work with Professor Tom Furness in the HIT Lab. He researched the use of short-pulsed radar to determine the feasibility of a wearable tracking device with closely placed antennas. By the time he finished his MS, Burnette knew he wanted to be an entrepreneur, but had no idea how to go about it. "I thought if I started on doctoral work I could build a network, meet the right people, then start my own company."
Out of the blue, however, Gibbons called him after two years of no contact. "He told me he had just left Elektrobit, and invited me for coffee to hear his idea for starting a new company. He said he needed a good engineer to help put it together and get it going," Burnette said.
Since that pivotal call, Opanga Networks has developed innovative technology to help wireless companies move high-bandwidth video more efficiently over networks by finding and using surplus capacity in real-time. "Streaming video is the number one problem causing service disruption over wireless networks," Burnette said. "Our solution is unique in that it does not require network operators to build additional capacity or put in special equipment. We cache video directly to consumer devices and do so without adding network congestion, by using otherwise wasted surplus capacity. We were ahead of the curve and the market, but the introduction of the iPhone was a great thing for us because video demand skyrocketed, forcing providers to acknowledge and address the network capacity limitations."
In the startup years Burnette worked for little or no pay, while developing the technology and joining Gibbons to seek investments from "local billionaires to cousins of Saudi princes, really anyone who would listen." He made ends meet while working in the HIT lab, RATLab LLC, and later Eden Rock Communications, and also completed the coursework and qualifying exams for his doctoral degree (hardly an idle moment to be found).
Opanga now has excellent financial backing, all from Seattle angel investors, plus 35 patent applications, a small engineering office in Redmond and an engineering office in Monterrey, Mexico. In December, a major telecommunications client in Mexico will be the first product launch customer. Burnette has received permission to take a leave of absence from his doctoral program to work full-time at Opanga to supervise the company's ten engineers (all UW grads in the Redmond office) and two UW undergrad interns, all "exceptional." Burnette enjoys his mentoring and design supervision roles, but still tries to sneak in a little software programming now and then "if I'm lucky." He spends several days every month in Monterey working with the engineering team there.
And the future? "Opanga is doing great and increasingly attracting attention, and we expect a big telecom or service provider will want to acquire it in a few years," Burnette said. Even though he's built his business network, Burnette intends to finish his doctoral degree and then start anew as an entrepreneur and enthusiastic go-getter.
"None of this was possible without the support and encouragement of my wife," Burnette says.